About Dr Cannon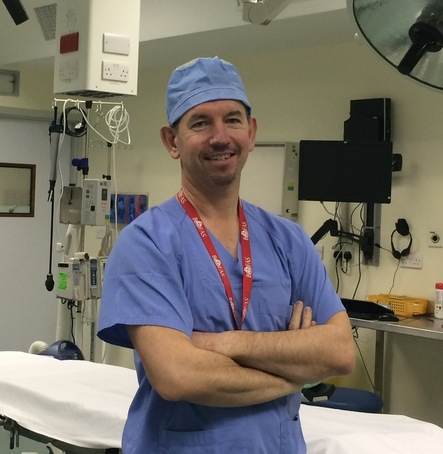 Les Cannon is a UK trained consultant trauma and orthopaedic surgeon.
He is English and studied medicine in London, qualifying as a doctor in 1991. He underwent a general surgical training before starting higher training in orthopaedic surgery.
Dr Cannon underwent specialist foot and ankle training in the Nuffield Orthopaedic Centre, Oxford (UK) gaining expertise in deformity correction and fusion procedures. He then undertook a year in the North Sydney Orthopaedic and Sports Medicine Centre (Australia) gaining experience in managing elite sportsmen and women. He was then appointed as a consultant in 2004.
Dr Cannon spent 9 years working at Portsmouth NHS Trust on the south coast of England as a Trauma/Foot & Ankle surgeon.
He was then appointed to set up a foot and ankle unit in Mafraq Hospital, Abu Dhabi where he led the orthopaedic department as its Chair until 2016 when he moved to Healthpoint Hospital.
He spent 5 years at Healthpoint and has now moved to Harley St Clinic in Abu Dhabi.
Areas of Interest
Dr Cannon's main research field was into the mechanics of trauma. He has numerous publications on trauma and foot/ankle topics.
Dr Cannon specialises in the management of complex lower limb trauma with his main specialty being the management of foot and ankle disorders (particularly hindfoot arthritis, deformity correction, ankle key-hole surgery, bunion correction and forefoot correction).
Medical Education
Dr Cannon also has an interest in medical education. He is a trainer of orthopaedic residents, an instructor for advanced trauma provision and a Royal College examiner of orthopaedics in the UK. He was an Assistant Professor of Orthopaedics at the Gulf Medical University and was appointed as clinical adjunct Professor of Surgery at Khalifa University, Abu Dhabi in 2020.
Clinical Qualification
Bachelor of Science (London) in cell pathology
Medical degree (London)
Fellow of Royal College of Surgeons (General and Orthopaedics)
Master of Surgery Higher Research degree (London)
Diploma of Sports Medicine (Scotland)
Affiliations
Full UK GMC registration on specialist register
Health Authority Abu Dhabi registration as consultant orthopaedic surgeon
Member of British Orthopaedic Foot & Ankle Society
Examiner for Intercollegiate Orthopaedic exam, Royal Colleges of Surgeons